JPMorgan Chase & Co. claims that the growth of cryptocurrency in conventional finance is coming at the cost of gold, according to a Bloomberg Report.
After October, liquidity has flooded into Bitcoin funds and out of gold, a development that can only continue in the long run when more global investors, according to quantitative strategists from JP Morgan Chase.
Bitcoin, the Digital Gold
JPMorgan is one of few Wall Street banks that predict gold will suffer due to Bitcoin's rise, according to JP Morgan.
According to JPMorgan strategists,
The adoption of bitcoin by institutional investors has only begun, while for gold its adoption by institutional investors is very advanced.
Grayscale Bitcoin Trust, a listed security used among many banks, has seen inflows of approximately $2 billion since October, relative to outflows of $7 billion for gold-backed funds.
Despite this, overall holdings of Bitcoin relative to gold are currently disproportionate.
Bitcoin accounts for just 0.18% of family office holdings, relative to 3.3% for gold ETFs, JPMorgan's estimates indicate. As percentages of Bitcoin in family offices grow, JP Morgan expects percentages in gold ETFs to fall.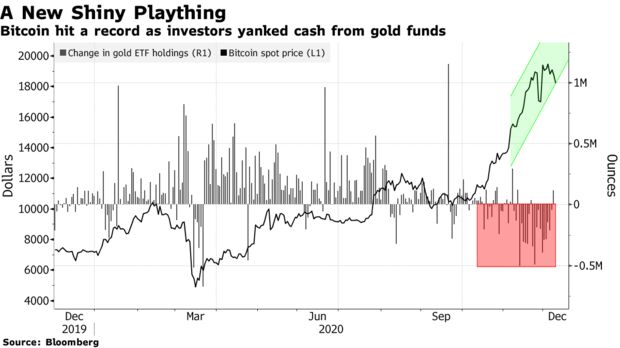 As such, Greyscale has noted that it has over $12 billion in digital asset holdings, with Bitcoin accounting for around $10.4 million of it.
12/08/20 UPDATE: Net Assets Under Management, Holdings per Share, and Market Price per Share for our Investment Products.

Total AUM: $12.6 billion$BTC $BCH $ETH $ETC $ZEN $LTC $XLM $XRP $ZEC pic.twitter.com/BPlcARQve6

— Grayscale (@Grayscale) December 8, 2020
As Decrypt noted, Bitcoin's price has at least tripled in value versus the price of gold since the March Bitcoin crash.
Bitcoin's Rise Since the Coronavirus Panic
After the coronavirus epidemic catalyzed a global market meltdown in March, the price of Bitcoin when weighed versus gold has not just stabilized but more than tripled. This might be due to market recovery after the initial coronavirus panic, along with the large influx of institutional investors buying Bitcoin.
https://twitter.com/blockfolio/status/1334298505616236544?ref_src=twsrc%5Etfw%7Ctwcamp%5Etweetembed%7Ctwterm%5E1334298505616236544%7Ctwgr%5E%7Ctwcon%5Es1_&ref_url=https%3A%2F%2Fdecrypt.co%2F50316%2Fbitcoin-price-triples-in-value-against-gold-since-march-crash
In recent months, many global funds have gradually invested into the Bitcoin markets. This trend can be shown from the volume of Bitcoin owned by digital currency asset manager Grayscale, whose buyers are mostly organizations. In addition, payments company Square made a $50 million Bitcoin purchase.
As such, "digital gold" is far outperforming the physical one at the moment. Raoul Pal, CEO of financial TV channel Real Vision, told Decrypto that:
I'm a macro guy so I'm looking for where's the best risk-adjusted return and Bitcoin was basically eating every other asset's lunch. And I held onto my gold for as long as possible and I'm like, what is the point?
There's a fair risk that Bitcoin prices have overshot in the short term, however, and gold is due for a rebound, the bank added. For Bitcoin, momentum signs have worsened, which is likely to encourage buyers who trade on market patterns to sell.
Since closing at an all-time peak of $19,462.14 last week, Bitcoin has dropped 6 percent.