Hashmasks is an interesting concept by 70 different artists for 16,384 original NFT artworks. Users can now participate in the NFT art sale by purchasing their own "Hashmasks" which are unique pieces of art that do not exist in any other form in the real or digital world.
The NFT artwork bought by the customer will not be revealed for another 2 weeks, however, it will randomly have its own characteristics when it does, some rarer than others. The team, Suum Cuique Labs, is headquartered in Zug, Switzerland.
You collect Hashgraph's NCT token on a regular basis by keeping the artwork, which enables you to select a name on the Ethereum network for your image.
Over time, the Hashmask will generate fresh NCT, but just enough to allow 2 name changes a year. The NCT is burned every time an address modifies a term.
The peculiar twist is the convention of naming. The user should select a name for their NFT, such that no one hashmask can have the same name, since the name is stored on the blockchain and available. You must own an NCT (Name Changing Token) that is native to Hashmasks to modify a name.
How does Hashmasks work?
Hashmasks is an NFT artwork based concept. A non-fungible token (NFT) is a particular kind of cryptographic token that reflects anything unique; thus, non-fungible tokens are not identical to each other.
This is in comparison to cryptocurrencies such as bitcoin, which are fungible in nature, and certain network or service tokens.
Unlike most collectibles, where the uniqueness of all characteristics is determined by the makers, two levels of scarcity have been included by Hashmasks: it includes a collection of characteristics to provide the user with general instructions, but it has also produced several implied characteristics not accounted for.
The Name Changing Token (NCT), which can be shared with other members in the artwork, commoditizes branding. Per name is special and may belong to just one NFT.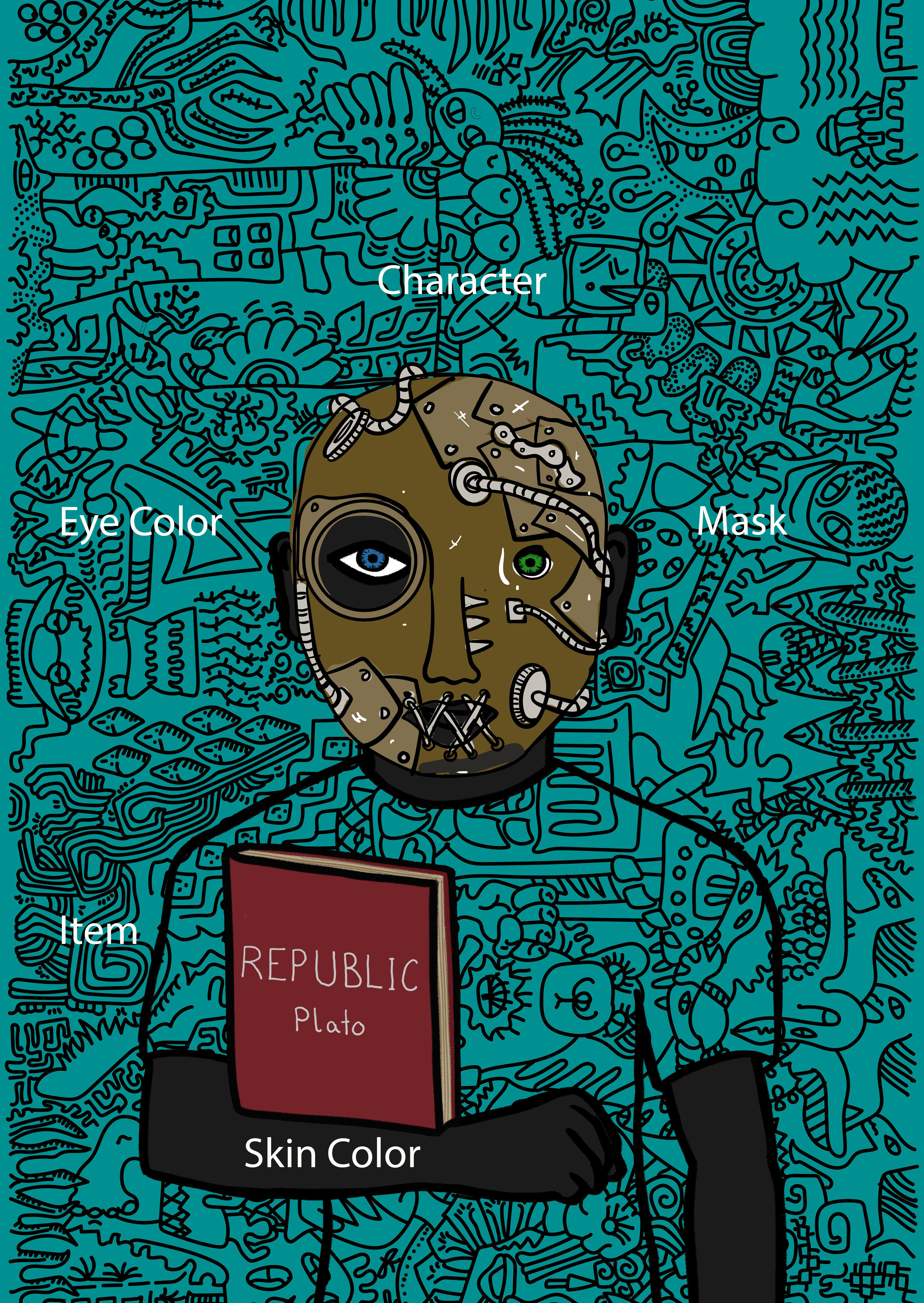 Hashmasks are the first collectible where each piece's worth and rarity within the set is not fixed but can alter and evolve for several years until when the last NCT is burned.
What is the Name Changing Token (NCT)?
Each day, each Hashmask accumulates 10 Name Changing Tokens (NCTs) and can be claimed by the present holder. You can burn these tokens and change the name of your Hashmask on-chain when you have 1,830 NCTs (approximately 1⁄2 years worth of NCTs).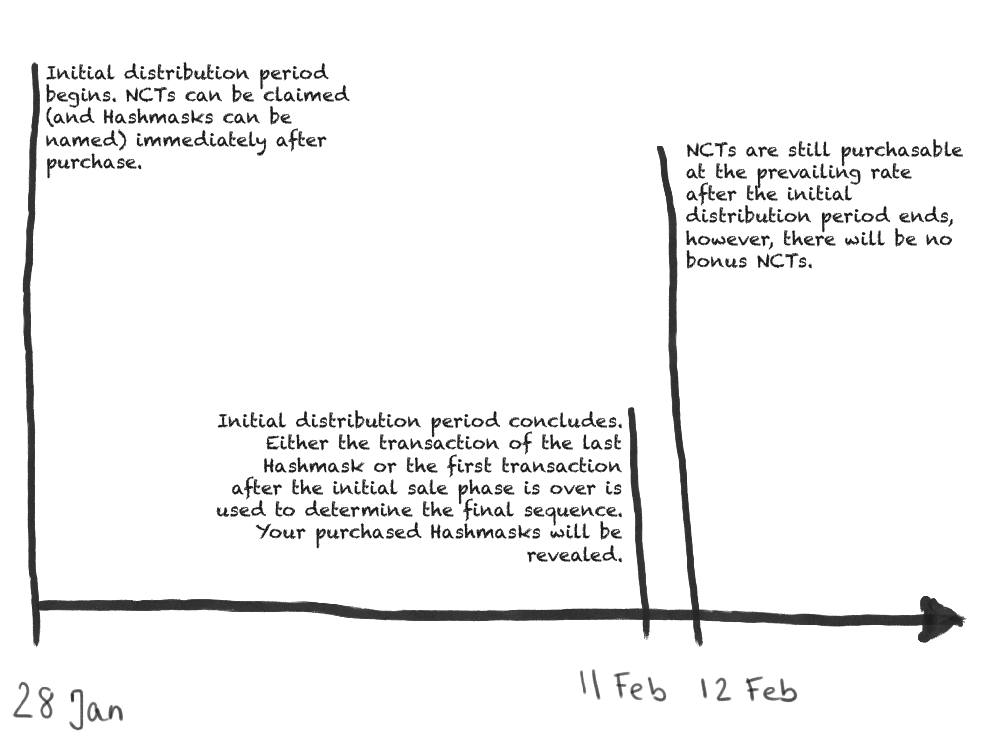 Any participant will receive NCTs worth 1 year during the first 14 days of the contribution period (3,660 NCTs, the equivalent of 2 name changes). Each Hashmask will begin with sufficient supply after 14 days for a single name change (1,830 NCTs).
With NCT, you can name the art you own. You don't merely buy a piece of rare art. You take ownership of a piece of art and become a part of the art.
You thus become one of the founding creators of not only the NFT but the Hashmasks ecosystem as a whole. As we shift towards a fully digital economy, Hashmasks states that NFTs can serve as your digital identity.
How Do I Get a Hashmask?
Hashmask can be purchased on the website using ETH. The distribution is intended to be equitable. You don't know what piece you've bought when you buy a Hashmask.
14 days after the start of the sale, you find out (started Jan 28) the NFT picture is unlocked. The piece you get is randomized cryptographically, regardless of whether you bought it first or last.
Hashmasks went on sale on January 28 for 0.1 ETH each.
Around 15,000 Hashmasks have been sold as of writing. They're now on sale for 1.7 ETH per Hashmask.
They are expected to leap to the next price threshold in around 2 days at the current pace. Supply is small and certain aspects of the Hashmask are more scarce than others.
Are you interested in getting your own Hashmask?