Binance Smart Chain has exploded in popularity recently due to its affordability in use and multitude of decentralized applications to access. However, it does have a barrier of entry for new users.
Follow this guide to learn how to access Binance Smart Chain using the most popular cryptocurrency wallet, Metamask.
How to Install Metamask
For Chromebook and Firefox users, MetaMask is accessible on the respective app stores, or on Android and iOS if you're a smartphone device. We will be using the Chrome version of Metamask for this guide, but the guidelines will be very identical for all devices.
MetaMask has two key options to install it: you can go to the MetaMask website, or you can use the MetaMask Installer.
Step 1: Download MetaMask.
Step 2: To install Metamask, click "Install Metamask for Chrome."
Step 3: In the upper right corner, click "Add to Chrome."
Step 4: To finish the installation, click "Add Extension."
When you see the fox emblem in the upper right-hand corner of your window, your Metamask is installed.
Next, open the app and create a wallet.
Find a safe location where you can write down the backup seed phrase and keep it protected (preferably not on an Internet-connected device). You will also need to set up a local password to open your Metamask account.
Once you have completed the previous steps, your wallet will be open to accept and transfer cryptocurrencies.
How to Access Binance Smart Chain on Metamask
You will notice that Metamask starts off as just an Ethereum wallet. To access Binance Smart Chain in Metamask, you need to set up a Custom RPC.
To access Metamask preferences, pick Settings from the drop-down menu.
To reach the Networks configuration, we want to be on the Settings list.
There are many networks to select from in the Networks submenu.
We want to manually connect to Binance Smart Chain by pressing Add Custom RPC – it is not included with MetaMask. Additionally, we will use the mainnet criteria for the Custom RPC
Mainnet (This is the one you are probably looking for)

Network Name: Smart Chain

New RPC URL: https://bsc-dataseed.binance.org/

ChainID: 56

Symbol: BNB

Block Explorer URL: https://bscscan.com
Once this is added to the list of networks on Metamask, you can connect using the networks button on the top right corner.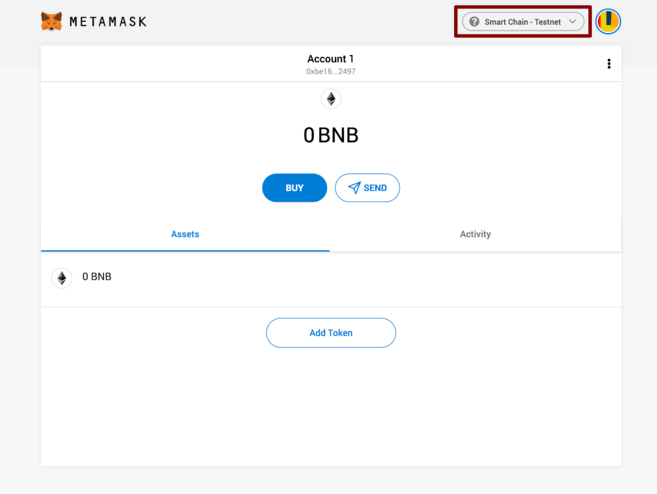 How to Make Transactions on Binance Smart Chain
Since Metamask is an Ethereum wallet and Binance Smart Chain (BSC) has many BSC versions of Ethereum tokens, using BSC is remarkably similar to using the Ethereum network.
The main difference is BSC uses BNB as gas for transactions rather than ETH. Make sure you have some BNB in your BSC wallet or else you will not be able to make transactions. You can send BNB to the address shown at the top of your Metamask page.
There are two ways to send BEP-20 tokens (BSC's version of ERC-20 tokens) to your BSC wallet.
Withdraw directly from Binance to your BSC wallet and choose the "BEP-20" option for withdrawals.
OR
Use the Binance Smart Chain bridge to convert from a number of token networks to BSC.
In any case, again make sure you send your tokens to the correct address, which can be found at the top of your Metamask page.
To make a transaction, click the "Send" button and enter in the following:
The address you want to send your funds to
Specify the coin you will be sending
Choose the amount of coin
Choose the amount gas (BNB) you will be spending. Generally speaking, you can stick with Metamask's suggested gas price as the BSC network is not nearly as clogged as the Ethereum network.
For the purposes of this guide, we will be sending BNB. Note that as Metamask is an Ethereum wallet, the interface calls BNB "ETH."
Click Next and you will receive one more opportunity to look through the transaction and see if anything is right. Then, press Confirm.
As soon as your transaction is verified, you will be informed in your Metamask "Activity" tab.
Will you be using Metamask to access Binance Smart Chain?