There are many browser extensions out there that are incredibly useful for cryptocurrency investors, some downright necessary. Browser extensions can be used to track prices, protect you from hackers, and serve as a crypto wallet
Today, I'm going to list out what are the top five browser extensions every cryptocurrency investor should have on their computer.
No Coin/No Miner
I recently found out that it's possible for some networks to gain access to your computer and mine cryptocurrency off of your CPU. These people are using your electricity and your computer to steal your profit. It's because of this fear that I recommend the No Coin extension for Firefox and the NoMiner extension for Chrome to prevent malicious actors from gaining access to your CPU.
In the past, there was a website known as Coinhive that several cybersecurity firms identified as a threat to investors as the service would steal processing power from visitors' devices. Fortunately, Coinhive shut down years ago, but that doesn't mean the practice disappeared. There are still hackers and websites out there that will try to gain access.
Crypto Price Tracker/CoinStats
Crypto investors spend a lot of time research and looking for the next big coin; the one with the most potential or most undervalued. Smart investors look at different crypto exchanges and apps to get the most information possible, but for the busy professionals who don't have much time, I recommend getting a cryptocurrency price tracker extension.
A price tracker monitors the value of different cryptocurrencies and tokens, and the best one is Crypto Price Tracker. It has an easy-to-understand layout that allows you to place as many cryptos side by side, view their price whenever you open a new tab, and the extension supports a ton of them.
CoinStats is opening your doors to #DeFi by announcing CoinStats Wallet!

From now on, you will be able to easily trade your favorite DeFi coins and tokens on BSC, Ethereum, and Polygon. Thanks for trusting and being with us. 🧡

👀 https://t.co/FCLWp3CoEn pic.twitter.com/q7JKU8pQP6

— CoinStats – Crypto Portfolio Manager & DeFi Wallet (@coinstats) August 18, 2021
However, Crypto Price Tracker is only available as a Chrome extension. For Firefox users, I recommend CoinStats. It's more complicated than Crypto Price Tracker, but it still has an intuitive design that's easy to follow.
MetaMask
We've written about MetaMask numerous times before and with good reason. It's an excellent browser extension that every crypto investor should have. To keep it short, MetaMask is a software wallet that allows users to trade on various decentralized crypto exchanges. It was originally meant for Ethereum but has since expanded to include more cryptos.
🔥Our EIP-1559 support continues to roll out🎉

✨Mobile is live for all iOS & Android users!
✨Firefox is now live!
✨Chrome is rolling out, should be out to all some time next week
✨Hardware wallet support for 1559 coming soon after

— MetaMask (@MetaMask) August 12, 2021
MetaMask looks out for users with a high level of security. The extension allows users to set an auto-lock to their wallet and alerts users of phishing scams. Its high level of utility and security make it one of my personal favorites.
AdBlock Plus
AdBlock Plus is a pretty ubiquitous browser extension that anyone who is internet savvy has it installed. But the plug-in does more than block ads, it also disables tracking by websites and viruses.
The average crypto investor spends a lot of time engaging in financial activity on their computer, making privacy and security even more important. AdBlocker Plus is especially useful for crypto users interested in protecting their assets. The extension is available on Chrome and Firefox.
Privacy Badger
Another anti-tracker extension, and the best one on this list, is Privacy Badger.
Privacy Badger is a learning A.I. First, the extensions send out a signal telling websites to not track you and actively learns which trackers ignore this signal. The trackers that ignore Privacy Badger get blocked automatically giving its user increasingly better privacy as time goes on.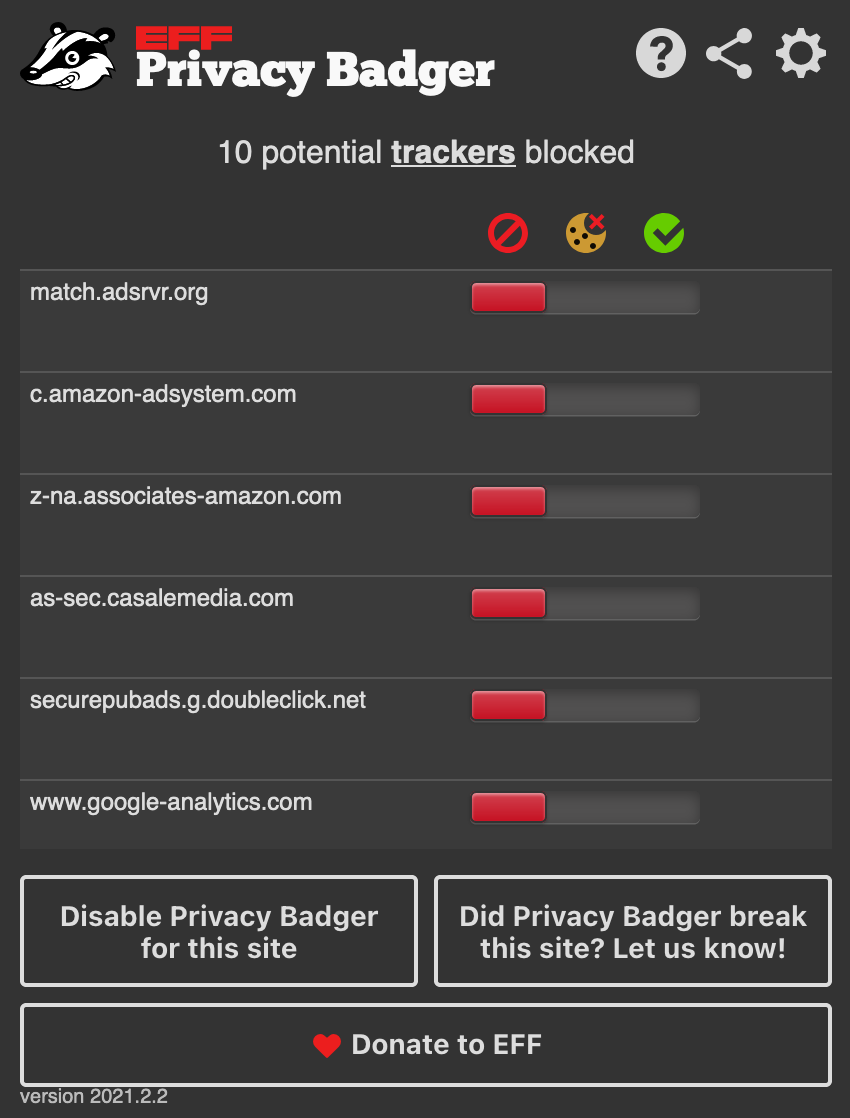 When first installed, Privacy Badger may not be that great because it hasn't been given the opportunity to learn which trackers ignore. But given the opportunity to learn, the extension begins to shine and you will learn how great it is.