The sun eventually sets on every empire, from the Romans to the British, and now Dogecoin.
Everyone's favorite joke crypto coin has gone through a wild rollercoaster ride since the beginning of the summer. It's fallen off hard with its total market cap now less than half of its peak. Dogecoin is struggling to gain relevance again in the competitive crypto market. And in my opinion, I think it's fair to say that Dogecoin has had its time in the sun and it's time for investors to move on.
Start As A Joke Coin
Ever since software engineers Billy Markus and Jackson Palmer created Dogecoin as a parody, the meme inspired cryptocurrency has been an anomaly in the space. Early on, the developers added a feature that would randomly reward miners for successfully mining Dogecoin, since then, it went off to be one of the highest-worth cryptocurrencies and made headlines all over.
SpaceX launching satellite Doge-1 to the moon next year

– Mission paid for in Doge
– 1st crypto in space
– 1st meme in space

To the mooooonnn!!https://t.co/xXfjGZVeUW

— Elon Musk (@elonmusk) May 9, 2021
It caught the eye of many celebrity endorsements, the most famous of which was billionaire and meme generator Elon Musk. Musk was a huge proponent of why Dogecoin became so valuable when he often called for rallies to shoot the coin to the moon. This caused Doge to reach astronomical numbers and make an absurd amount of money.
Legitimacy
Dogecoin eventually became somewhat legitimate and saw real-world adoption as some companies and organizations started to accept the asset as legal tender. The most famous of which was when the Dallas Mavericks announced they would accept Dogecoin.
Because Doge is the one coin that people actually use for transactions. We take many others via @BitPay . But people spend their Doge and that means more businesses will start taking it. The greatest inhibitor to it's growth is that you can't spend the Doge you buy on Robinhood https://t.co/TrhT9pYkcb

— Mark Cuban (@mcuban) April 26, 2021
At the time of this writing, Dogecoin's market cap is a little over $35 billion which is still an amazing amount, but it's still falling. On November 12, DOGE dropped more than 5 percent as it continues its fall from grace. The asset has fallen to 9th place in the cryptocurrency rankings, a place that even Elon Musk's rallies that push the asset out of.
External Pressure
The blame gets placed on a lot of different factors; one of which is stiff competition from Shiba Inu Coin. It's another dog-based cryptocurrency like Doge and it has exploded on the scene, quickly rising through the ranks in a few months. At this point in time, Shiba Inu has a market cap of over $29 billion and sits comfortably at 11th place in the global ranking.
There also have been outside influences that have negatively impacted Dogecoin. Going back to Elon Musk, when he made his appearance on Saturday Night Live, he called Doge a "hustle" and a "joke" which caused the asset to drop 35 percent in 24 hours. It still hasn't really recovered from that dip.
Besides Musk, another setback came from China when the government decided to ban the use and trade of cryptocurrency. The Chinese market was a massive one and facilitated much of its growth, but it's all gone.
Is It Worth It?
Nowadays, investors and experts are questioning whether or not it's a good idea to buy Dogecoin anymore. DOGE was already a volatile asset that coasted on celebrity endorsement to keep it afloat, and with attention waning, it's not looking so hot.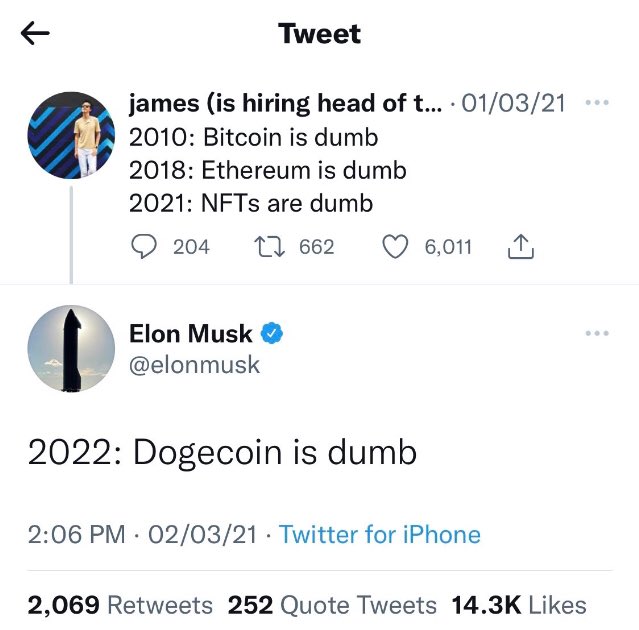 Of course, this is not to be taken as financial advice. This has been a look at what once was a titan in the industry now going out of style. I encourage everyone to do their own research, but I'm stepping away from Doge.